Our Dogs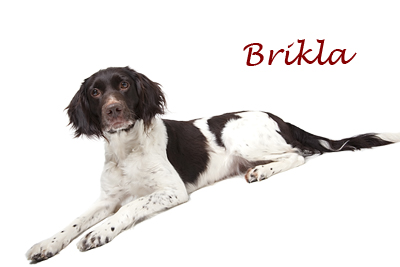 Brikla Baronne van Achter de Duinen
Brikla has stayed with us. She is a daughter of International Champion Romulus de la Foret des Segneurs and our Champion Yske Rosina Jent von Beer's Freunde. We found Romulus in France, after a long search. He is a very beautiful dog, who is, just as many generations of ancestors, very good in the field . We really like his physique, charm and his beautiful dark eyes, that have been in his family for many generations. We think it's very important to look for a line of dogs that has never been used in The Netherlands and that is completely free of genetic disorders. This means there is also no inbreeding.
Why the name Brikla? This is a combination of two names, Brigitte (who has done a lot for us) and my Christian name Klazina.
We made the choice, which puppy would stay with us (there were five females to choose from), based on a test, done by judge Ada Schoenmaker at seven weeks old. The charakter of our new dog had to be compatible with the charakter of Yske and the results showed that Brikla would be the best choice for us.
Brikla has HD – A and her eyes have been tested and approved. Brikla had her first litter in 2009 and retired after her last litter in 2012.
Click here to see Brikla's photo page.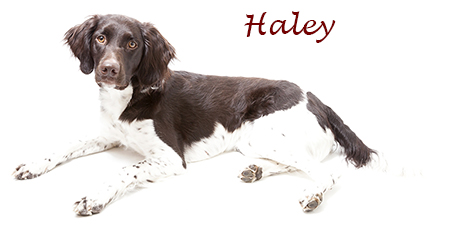 Haley Hertogin van Achter de Duinen
I would like to introduce myself. My name is Haley Hertogin van Achter de Duinen. I am a daughter of Brikla Baronne van Achter de Duinen and Argo de Wacourt and I was born on April 15th as part of the H-litter of Kennel van Achter de Duinen.
I was named after the comet Haley, because I'm a fast lady, who learns very quickly and in Scandinavian, my name means hero. If everything goes as planned, I will need both; being quick and being a hero.
My mother Brikla has retired, after her fourth litter in 2012, of which I'm a daughter. It is my owners intention that I will continue the Kennel, that is if I will meet the strict demands of my owner and the munsterlander association.
Click here to see Haley's photo page