Sylvia van Antwerpen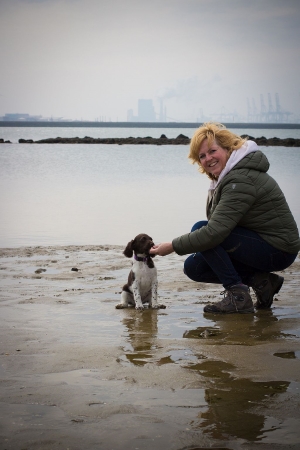 May I introduce myself. I am Sylvia van Antwerpen born 11-10-1967.
Have been crazy about dogs all my life.
My first dog was a labrador and soon a second came.
I met Ineke in the fitness center and she was so full of passion about her dogs,
that my interest was awakened for the Heidewachtel (Small Munsterlander Pointer)
There she came once time in fitness center with puppy Haley and so the love for this race was born.
After 2 years of intensive walking with Ineke in the kennel, it was 27 June 2018 that I took over the kennel!
I am really looking forward to it, and I will certainly continue on the same way as Ineke did.
I want Ineke and of course Louis super thanks for the confidence what they give me to continue the kennel.
Sylvia van Antwerpen
Ineke Frequin
I am Ineke Frequin Jordaan, and married with Louis Frequin, together we have 4 children. All of our children are living on their own and so nowadays there's the two of us.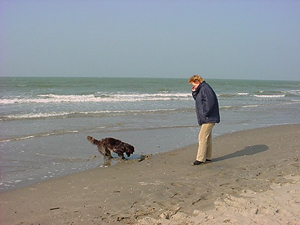 When I was 13 years old, I was working as a housekeeper for Prof. Dr. Z.Y. van der Meer and his wife. Here I had my first encounter with a Heidewachtel (Small Munsterlander Pointer) with the name Asta. She was a bit older, but she went regularly hunting with her boss. I was very attached to Asta and later on I regularly caught myself thinking about her.
When my husband regularly stayed in foreign countries for a long time to do volunteer work, I considered getting a dog and I always thought of this Heidewachtel from my past. When I started looking up information about this breed on the internet, I fell in love with it all over again. I got more and more convinced that this was the breed for me.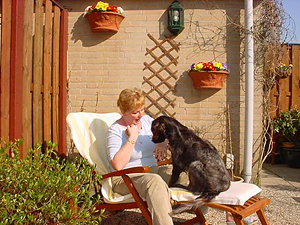 I contacted Liane Eekman and got a puppy of one of her litters. She told me that the name of the puppy should start with an Y, and I immediately thought of my old employer Z.Y. v.d. Meer. The Y stood for Yske, so I honored the past by calling my dog Yske.
When my husband is away, I take Yske to the beach and she truly loves this. She is very intelligent and loving, she loves to sit on my lap at night and get a lot of cuddles. She really became my buddy. One of the puppies of the second litter of Yske stayed with us. Her name is Brikla and she is brown/white.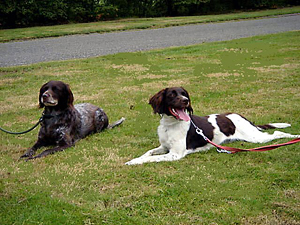 With Brikla Louis has done the training, it is really his dog, she follows him everywhere.
In the first instance we were made ​​from the litter a different choice, but on the advice of the judge which made a a puppy test with seven weeks has become Brikla
We knew very quickly that Brikla is a real dog that would work for you and not a show dog, of course we also run a show and has achieved an Excellent , then we have done her hips and eyes , so we could go with her breeding.
Brikla has had 4 litters, second time she is breed by Birko, 1 time by Archibeau and 1 time by Argo.
From the last litter we kept a puppy and that has become our Haley.
The name Haley ( Comet ) we have given her, because it is a very fast aunt who is again very much like to do fieldwork.
We hope to breed with her end 2014 the first litter.
Ineke Frequin-Jordaan
.